This isn't much of a proper blog post, more of free promotion really. I found this on another site and felt it just had to be shared. Anybody that knows me, knows I'm not a fan of facebook, so this was too good not to share. A great anti-facebook graphics.
You can also download a variety of stickers/buttons/banners for your site, these are all released under a
Creative Commons Attribution-ShareAlike license
.

SVG available
here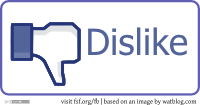 SVG available
here